Spider Lift Tree Maintenance, Trimming & Removal
Spider Lift Tree Maintenance and Removal
Safe. Efficient. Reliable
Tree removal or maintenance can be challenging and even dangerous when you have trees that are too tall or unsafe to climb. Our spider lift tree maintenance and removal services ensure your safety and that of your property and assets by ensuring that your trees are removed or trimmed safely.
How Do Spider Lift Services Work
The spider lift provides an aerial platform for arborists to use during trimming and pruning seasons. It allows our professionals to access high and hard-to-reach spots, which is impossible with a mere ladder. Designed to get into tight spaces, spider lifts can be maneuvered in a range of different ways. With spider lift arms stretching up to 100 feet, All Pro Tree Care's spider lift service is the go-to tree service to trim and prune trees over 50 feet.
Spider Lift ensures safety for our arborists and efficiency and affordability for our customers. Being extremely narrow and compact in size, the spider lift can fit through most gates, between most structures, and down most sidewalks to get the job done quickly and effectively while causing minimal inconvenience to you and your neighbours. With our Spider Lift Tree Trimming services, we make it possible to trim and prune trees on properties with narrow passageways or neighbors who won't allow access to their property. Moreover, its relatively light weight allowing us to do the job without damaging other tree roots or leaving muddy tracks in your yard. The result? Efficient services and neat finishes.
Our Recent Work with Spider Lift
Ready to get started? Let Us Take Care Of Dangerous Trees On Your Property
Don't Just Take Our Word For It. See What People Are Saying Online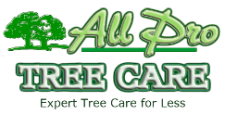 Monday – Friday
8 AM – 5 PM
24-Hour Emergency Response